Marshall Fires Awakening with Insurance Questions
Date posted
January 30, 2022
In the aftermath of the devastating Marshall Fire in the Boulder County, more than nine hundred homeowners, renters and business owners were left homeless and with a complete loss of personal and business belongings. The Marshall fire destroyed, homes, rental homes, mobile homes, apartments, vehicles, family memories, important documents and security.
According to a report from Karen Clark & Company1, the accumulated losses by the insurance carriers on damage or destroyed property would be around $1 billion. Compared to other recent fires in Colorado, the Marshall Fire is the most destructive in history.2 The first step will be for the insurance companies claims adjusters will be to settle with their customers. This process could take weeks to months depending on the documentation requested and coverage limits. Insurance companies will be reviewing dwelling coverage limits, personal property limits, deductibles and endorsements in order to process an initial settlement for each claim. After the settlements are made and accepted, it will take several months before clean up and reconstruction can begin. As an Insurance Agent, I encourage homeowners to work with your insurance company before assuming they are underinsured.
When you are reviewing your coverage, you need to look for the following sections and endorsements under your policy:

1. Dwelling coverage: This is your reconstruction cost to rebuild your home with today's cost of labor and materials. The total dwelling limit is based on the home square feet, features, roof and any customization. The dwelling coverage needs to be as Replacement Cost and not as Actual Cash Value to avoid being underinsured. Policies have different forms or Replacement Cost coverage. By purchasing these riders, you are protected incase of an unexpected cost increase to rebuild your home.
2. Extended Replacement Cost: It increases the coverage for your dwelling by 10%, 25% or 50%. This is normally paid only if the home is reconstructed and not as an extra payment.
3. Guaranteed Replacement Cost: Pays the full cost of replacing the home even if this amount exceeds the policy limits. This is the better and best form of coverage to have on your home or investment property.
4. Personal property: It includes all your personal items such as furniture, electronics, clothing, cooking items, etc. Please confirm with your agent, the items are covered as Replacement Cost vs Actual Cash Value. The coverage can also be found in a renter's policy.
5. Loss of use: It is also known as Additional Living Expenses. It pays for additional costs you might incur after a covered event such as the Marshall Fires, makes your home uninhabitable.

6. Endorsements or riders: It extends or increases standard limits for your higher value items such as jewelry, antiques, collectibles, electronics, etc.
7. Building ordinance: Coverage applies if building ordinance or law enforcement is required as a result of damage directly caused by a peril insured against.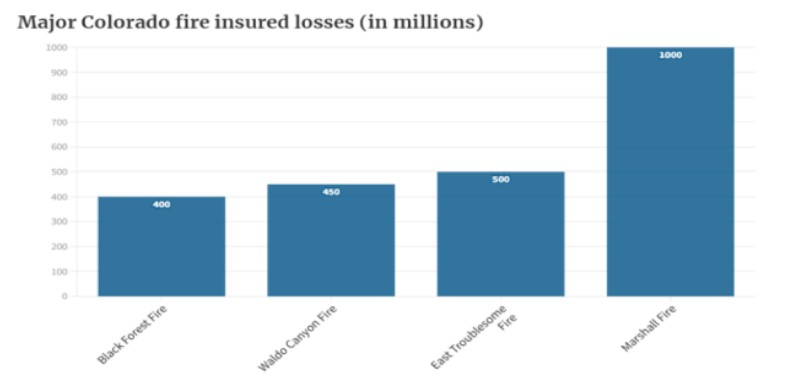 8. Deductibles: Colorado has the option to offer a percentage or a flat deductible in a homeowners policy. I always suggest choosing the Flat Deductible when it is available. The deductible is the amount of money the insured or homeowner is responsible for when there is a claim.
If you are worried about being underinsured on your homeowner's policy, you could request a copy of your Replacement Cost evaluation to your agent. It will include the home construction details such as the total square feet, basement finishing, features and fixtures.
After the Marshall Fires, Michael Conway, Colorado Insurance Commissioner, suggested to try to work with your agent and the claims adjuster before hiring an attorney. "Conway said. "Because keep in mind that those attorneys or those other types of contractors, they're going to charge you money too. And it's going to be money that you won't have to go to rebuilding your home."
If you have questions with general questions on your existing claim or about future claims, you can contact me. I could review your policy and provide a guidance how to improve it.

1 https://www.reinsurancene.ws/kcc-pegs-marshall-fire-insured-loss-at-around-1bn/
2 https://kdvr.com/news/data/insurers-tally-1-billion-in-damage-from-marshall-fire/