Tiering for Success — There Are Differences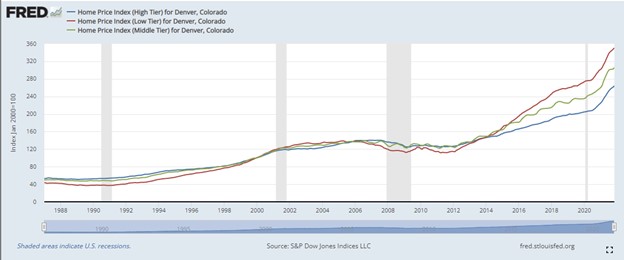 As is well-known, millennials have begun to come into their home-purchasing years, and COVID accelerated that trend. This large group of excited new home buyers have created some oddities, one of which is that low priced homes have moved up in price faster than high priced homes, and not by a little bit.
For data, S&P Case Shiller breaks out the Denver area into price tiers. The Denver area includes Adams, Arapahoe, Broomfield, Clear Creek, Denver, Douglas, Elbert, Gilpin, Jefferson, and Park counties. By tracking the same home over time, the change in prices can be determined. Then those sales are aggregated, and broken into 3 tiers: high, medium, or low. That data is then made available on sites such as FRED, the data site from the Federal Reserve Bank of St. Louis, and the result you can see on the attached graph.
For a long time, homes in these tiers moved relatively equally, so from 1987 to 2012, all tiers moved at about the same rate. But then in about 2014, the tiers start to diverge, with low-priced homes moving up faster than the other tiers, mid-priced homes moving up next fastest, and high-priced homes moving up in value most slowly. Home prices in the entire country were recovering in 2012, and Colorado became especially attractive with job creation and lifestyle considerations. These factors combined to attract new home buyers, who bought starter homes, pushing up those prices. It is interesting to note, however, that price variance was created between 2012 and 2018, and has really only held constant since then, not getting worse or better.
These new home purchasers also are not entirely happy with their purchase. Bankrate teamed up with Yougov to understand how home buyers felt about their purchase. As could be expected, purchasers had regrets, and one of the most telling was what they felt bad about, with many respondents concluding they had bought the wrong house, either the wrong size or in a bad location. These are prime candidates for a move-up house, and if the home you bought has gone up in value faster than a move-up house, and you don't really like it, why not move?
Chris Hodges, a realtor, investor, and financier in the Denver area, points out another interesting phenomenon: "There is so much competition for these starter houses with not only people that want to live in these homes, but also the short-term rental and other kinds of investors, that first-time buyers are now going right to the mid-tier homes for their first homes. With the new norm for the lower in the 400s, the 6-700s are really heating up."
Of course, there are significant differences to consider when developing/fix-and-flipping a higher-priced home. While starter homes can all look alike, more expensive homes are expected to be customized, introducing risks as layout and design choices are made. These concerns manifest themselves in ways such as "What if the special granite counters I choose aren't what the buyer wants, and then I have to discount the price to accommodate replacement?" By the same token, though, if you are purchasing a higher-priced house to update and fix and flip, those fashion whims are likely to create a dated home that can then be purchased at a discount to allow you to replace those black sparkly granite counters that were so fab just 5 years ago.