ADUs Are Good for People and Places!
With housing prices soaring beyond the reach of low and middle-income Americans, many cities are moving to create more affordable rentals by significantly expanding dwellings commonly known as garage apartments, in-law suites and granny flats. The official name for the apartments created from converted space is accessory dwelling unit or ADU.
What is an "ADU"?
Accessory dwelling units, or ADUs, are self-contained, smaller living spaces that are an extension of an existing property. They are often called mother-in-law suites, granny flats, casitas, backyard cottages, garage apartments or basement apartments. An ADU has its own kitchen, bath and sleeping area, but is not considered a separate property that could be sold on its own.
Affordable housing advocates promote ADU's as a way to modestly increase housing stock without drastically altering the neighborhoods that surround them. Slowly increasing density by adding single small housing units on in fill lots is much easier on infrastructure
and traffic than large apartment building.
Denver and the surrounding cities have clearly agreed with this sentiment, as zoning laws are slowly changing to allow more areas to be eligible to have ADU's built. Beside zoning, lot size and/or lot coverage can also restrict the addition of an ADU. An additional requirement of newly built units is that the homeowner live in either the primary house, or the ADU. Additional requirements may vary from city to city. Lakewood, for example, requires that the exterior of the ADU must be similar in appearance to the primary dwelling unit, including but not limited to materials, color, roof pitch, and detailing. Lakewood also requires multiple entities approve the ADU, such as the water and sewer district. Wheat Ridge hasn't allowed ADU's in the past, but in April of this year, the subject was revisited, as Wheat Ridge council members see the need for not just building new ones, but repairing existing, albeit illegal, ADU's. Denver has a very organized system for permitting ADU's according to Vern Robinson, CEO of Ridge Construction.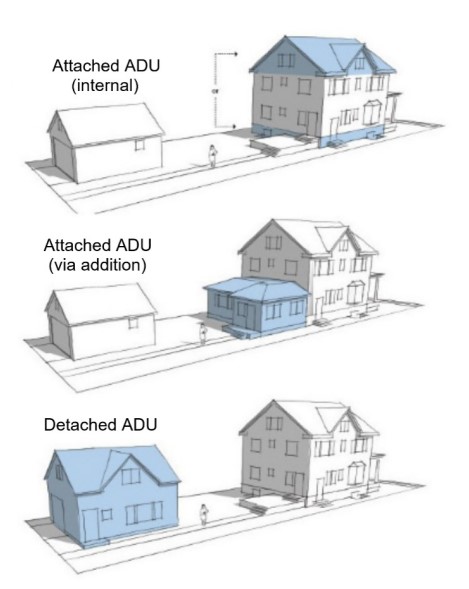 In April of 2021 only about 15% of Denver was zoned for ADU's. Denver neighborhoods, where ADU zoning is commonly found includes Berkeley, Sunnyside, West Colfax, Barnum, Whittier, Cole, Clayton, Platte Park, Overland, Baker, and Capitol Hill. Since then, builders have seen a few more Denver neighborhoods added.

There continues to be a swelling of support in areas that aren't currently zoned for these structures, as residents continue to see the many benefits.
Generally measuring between 600 and 1,000 square feet, ADU's work well for the one and two-bedroom homes needed by today's smaller, childless households, which now account for nearly two-thirds of all households in the United States.

With the average rent for a studio apartment in the Denver Metro Area being between $1,300 and $1,500 a month, an ADU has strong investment potential for the homeowner.

An ADU can generate rental income to help homeowners cover mortgage payments or simply make ends meet. The income provided by an ADU tenant can be especially important for older people on fixed incomes. Another benefit for the elderly is that if one spouse passes on or moves into assisted living, the other spouse can move into the ADU, and have much less house to maintain. Additionally, that remaining spouse can rent out the larger home, to provide extra income to help cover the cost of assisted living. As you might imagine, because of the many benefits provided for the elderly, AARP and AMAC are huge supporters of ADU's. AARP has a design catalog available on its website.

Several Financing options exist for ADU's. Besides traditional renovation loans, there are lenders with specific programs for these projects, taking into account the rent that the ADU will generate when qualifying of the borrower.

A spokesman for Ridge Construction, whose main focus is building ADU's says that rehabbing properties and adding ADU's to them to increase value is still in its early stages, but that financing options are beginning to catch up in providing more feasibility to this rehab strategy.

If you have questions or need further information, please contact Beth Hale at Beth.Hale@MortgageRight.com.